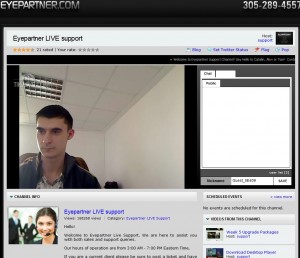 You don't have to be disconnected--ever. Imagine that. Imagine you're a CEO and you're cross country on business but there is an equally important meeting happening in-house at your firm. You can't possibly miss it but you also have yet to figure out a way to be two places at once. You've always been told that's humanly impossible, right? What if we could dispel that theory and you could be as many places as you'd like whenever you so choose? Too good to be true? No, not at all. We here at EyePartner recognize the importance of constant connectivity (especially in a rapidly moving digital world) thus we have created TikiLive. Tikilive is EyePartner's HD broadcasting service providing its users with a comprehensive set of tools for producing and managing Live HD Streaming content allowing you to remain in the loop forevermore.
Let's not imply that TikiLive is only CEO friendly. You, yes, you want to broadcast using TikiLive as well. This is your creative outlet. We are all well aware that creativity is unappreciated when gone unnoticed … so share! Invite your family and friends to tune into your very own TikiLive channel where all of your whims can be virtually experienced. You're encouraged to create an unlimited number of channels within your network where you can broadcast LIVE or pre-record Video-On-Demand content. You have your very own personal gallery where you can store, organize and group your content so feel free to capture photos during live shows or stream feeds via mobile devices. Explore your freedoms through TikiLive; it's solely up to you.
How about monetizing your HD content! Yes, you read right. Through use of your own TikiLive channel there are various ways to generate income. You're afforded the space to set up your own Pay-per-View and VOD pricing as well integrating advertisements into your events for additional revenue.
so Interest peaked? … here's what you can do. Start by grabbing a high quality web or IP camera with extensive bandwidth to capture your video. Sign up for a free account at www.tikilive.com and then commence to create! Try not to be alarmed by the low cost of production accompanied by the user friendly platform, we've done that especially for you as well. Feel free to thank us later.
To learn more contact sales@eyepartner.com or by phone 1-305-289-4557. You can always visithttp://www.tikilive.com/index/see/how-it-works#how-it-works for more information.